Ruin Me
Ruin Me 0.48.0: The Chthonic Swelling
---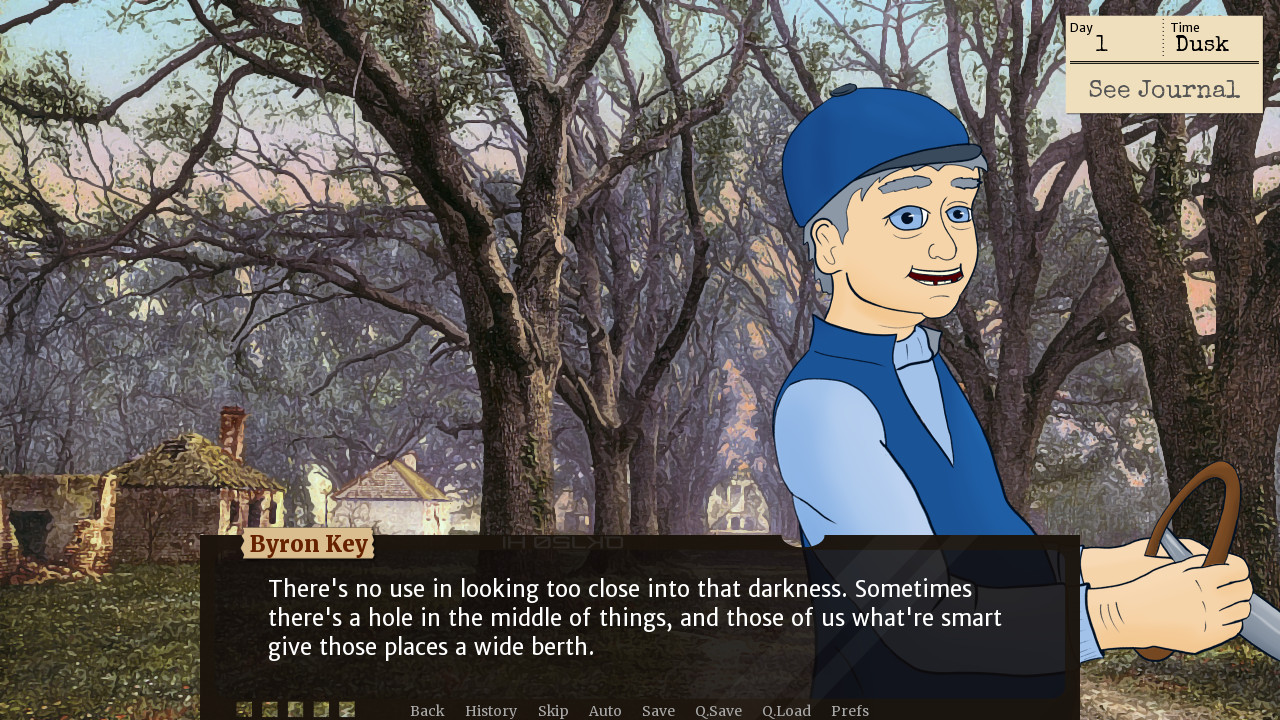 Hi, perverts! Ruin Me has a new patron version, which adds a new horror expedition involving a graveyard at a crossroads. The free version now includes a new graduation option for Theresa!
If you want behind-the-scenes design notes, previews of upcoming releases, new versions as soon as they're released, or the ability to vote in polls to decide what I develop next, sign up to my Patreon!
Version 0.48.0p is for $2+ patrons and adds:
"The Chthonic Swelling" horror expedition, featuring an encounter with a shadowy figure at a crossroads. It's available by talking to Byron in the bar starting in Act 1. Optional kinks include intoxication.
New transitions replacing most of the fade-to-black transitions used throughout the game.
A report of how much Ken you currently have on the "Explore" menus for the mansion and town. Previously, you had to open your journal to check.
Occasional minor variations to Cathy's play scene upon repeated visits. This will probably get extended to other scenes. It can be disabled with the new "Repeated Scene Variations" option in the preferences.
Minor enhancements and fixes.
Version 0.47.3 is public for anyone, adding:
A new graduation option for Theresa, "An Intimate Event", which unlocks when Theresa's stats are all at 4 and begins by talking to Theresa in her chambers. This option is available instead of the orgy. This involves spending a day one-on-one with Theresa and has various options:

You can have a more romantic day or one that's particularly filthy.

One path allows for Theresa to dominate you during the day.

All options end with a light dinner in a new location.

A conversation menu with Theresa in her chambers, with responses that shift as the game progresses. You can discuss how she's doing and how she feels about you.
A bit of info from Byron during the intro that any minors in town are away at the mainland thanks to the causeway washing out.
Change to use Theresa's "on back" pose in the first training scene for Permissivity 3 (Vaginal Sex).
Extensive refactoring of how the game tracks some things like player gender, genitals, clothing, and so on. This shouldn't cause any changes in gameplay, so if you notice the game referring to you incorrectly, please let me know!
Fix for going to bed early, a breakfast line, and an issue with adding the Mica Sign nightmare.
Fix for certain initial names for Theresa. If the way you address Theresa is busted, it should be fixed automatically when you load your game.
Fix for muddled history entries when dealing with random text. There's a remaining issue where the history will not always match what was originally shown in these cases; I'm working on it.
Fix for task notification messages not having variables substituted.
Fix for a bad variable during the second scene of massage training.
Minor enhancements and fixes.
If you sign up to be my patron at the $2/month level or higher, you get access to new builds as soon as they're done, plus the Reminisce feature that lets you replay old sex scenes without the trouble of rollback or save games. $5/month patrons also get access to a special cheat menu and the ability to submit requests! The current latest version will be available to everyone once the next patron-only build is up. If you want to contribute to the game's development, please become a supporter on Patreon!
Files
RuinMe-0.47.3-pc.zip
96 MB
Aug 15, 2022
RuinMe-0.47.3-mac.zip
62 MB
Aug 15, 2022
com.phanes.ruinme-release-0.47.3.apk
79 MB
Aug 15, 2022