Ruin Me
Ruin Me 0.46.0: Sounds and Urges
---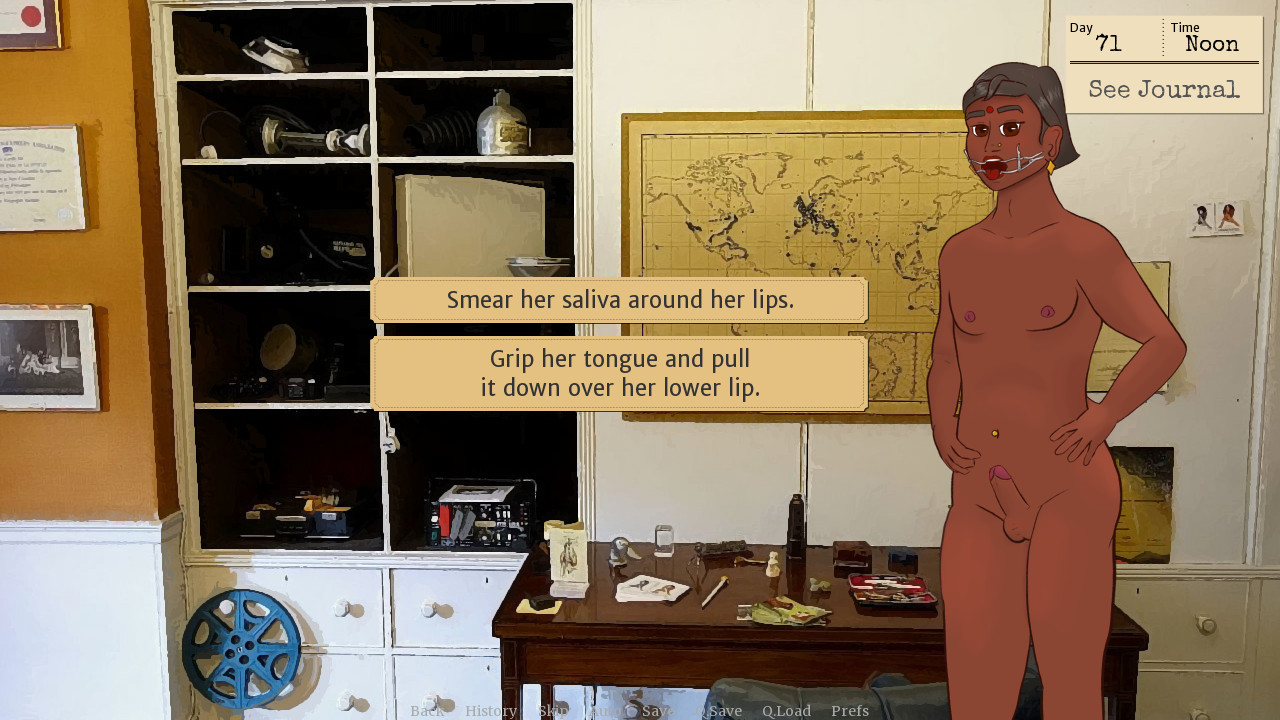 Hi, perverts! Ruin Me has had a long-awaited patron release, adding totally redrawn art for Meg, a play scene with her involving urethral sounding, and a new creepy horror expedition! That means that the public version has now been updated to include the overhaul to the look of the menus and a bunch of fixes and enhancements.
Please note: to upgrade on desktop, unzip the archive into a new directory. Your saves should carry over. Do not unzip over the previous version, as this can cause bugs.
If you want behind-the-scenes design notes, previews of upcoming releases, new versions as soon as they're released, or the ability to vote in polls to decide what I develop next, sign up to my Patreon!
Version 0.46.0p is for $2+ patrons and adds:
"The Abstruse Synergy" horror expedition, with a tale of parasitic infestation and unreliable perception, available by exploring outside town after the beginning of Act 2. Optional kinks include lactation, group sex, mpreg, birthing, rough sex, and messiness.
A new play scene with Meg involving urethral sounding. After you've delivered her first package, sounding rods will arrive in the entryway sometime soon after. Once they do, you can speak to Meg in the servants' office to start the scene. While one path through the scene includes some instruction, please do your own research before trying sounding yourself.
Completely redrawn art for Meg, including new arm poses and props in existing scenes.
Variations on Meg's conversations in the servants' office for later in game progression.
A submenu for conversations with Meg to make the servant's office menu more readable.
Categories for the out-of-town navigation menu to make it more manageable.
New transitions, currently only used for travel during "The Abstruse Synergy". Feedback on these transitions is welcome!
A new option in the preferences menu to highlight "sophisticated" content. With this setting active, when you enable kinks using the locked suitcase in your bedroom, they will be bolded and highlighted in a color corresponding to each kink.
A fix to the "street" background to make it a bit more level and crop out an artifact.
Minor enhancements and fixes.
Version 0.45.1 is free for everyone and adds:
A complete overhaul of the menu layout, including a brand new title screen.
A complete overhaul of the journal screen, now featuring a notebook motif and categorization on the Finished Tasks page.
A feature where Theresa will suggest nomenclature changes after certain milestones. Because changes were not previously tracked, the dialogue may read oddly in existing saves.
A new nightmare triggered by the first time you change nomenclature. Existing saves will trigger it the next time nomenclature is changed.
A locked suitcase that will arrive in the entryway after day 3 that allows you to enable optional material for sophisticated tastes using the "Examine your locked suitcase" option in your bedroom. This is opt-in writing that is added to existing scenes. The first option, "The Paradoxical Appeal of Filth", adds gross substances to some scenes if you enable it in your bedroom.
A new option in Theresa's graduation orgy to swap Arthur's semen with her.
Additional quips for Theresa at breakfast, including some triggered by high levels of Depravity or specific training.
Additional options for random breakfast activities.
More variation in Theresa's greeting routines.
New transitions for nightmares and plunging into water.
An abbreviated dialogue option for if you report back to Pappy when The Sacrificed God is incomplete.
A revision to Cathy's artwork to make her hair's behavior a bit more consistent.
A clue in the journal entry for Theresa's graduation orgy showing how many possible guests can be invited.
Alt text for the pocketwatch icons so that players using self-voicing can identify when time will pass.
A fix to Ren'Py's self-voicing for randomly generated text so that it will now be read properly.
A fix for certain instances where Theresa's chosen outfit was not used.
Fixes for keyboard controls in (hopefully) all menus; this also standardizes scrollbars to be on the right-hand side. As a side effect, scrollable viewports are no longer draggable, which probably doesn't affect anyone.
A tweak to "small" layouts (used for phones), making vertical scroll bars wider and easier to use.
Fix for several issues with modifying player nipple piercings.
Fix for the random text when having Theresa eat peanut butter off your vulva at breakfast.
Fix for an issue where Theresa grew a third arm during breakfast.
Fix for an issue where Iphedia wouldn't say the protagonist's first name.
Minor enhancements and fixes
Edit: 0.45.2 and 0.46.1p fix an issue with categories in the journal.
0.45.3 and 0.46.2p fix an issue with viewing The Mica Sign in the journal.
If you sign up to be my patron at the $2/month level or higher, you get access to new builds as soon as they're done, plus the Reminisce feature that lets you replay old sex scenes without the trouble of rollback or save games. $5/month patrons also get access to a special cheat menu and the ability to submit requests! The current latest version will be available to everyone once the next patron-only build is up. If you want to contribute to the game's development, please become a supporter on Patreon!

Files
RuinMe-0.45.1-pc.zip
93 MB
May 02, 2022
RuinMe-0.45.1-mac.zip
58 MB
May 02, 2022
com.phanes.ruinme-release-0.45.1.apk
75 MB
May 02, 2022