Ruin Me
Ruin Me 0.44.0: Valentine's Breakfast Perversion
---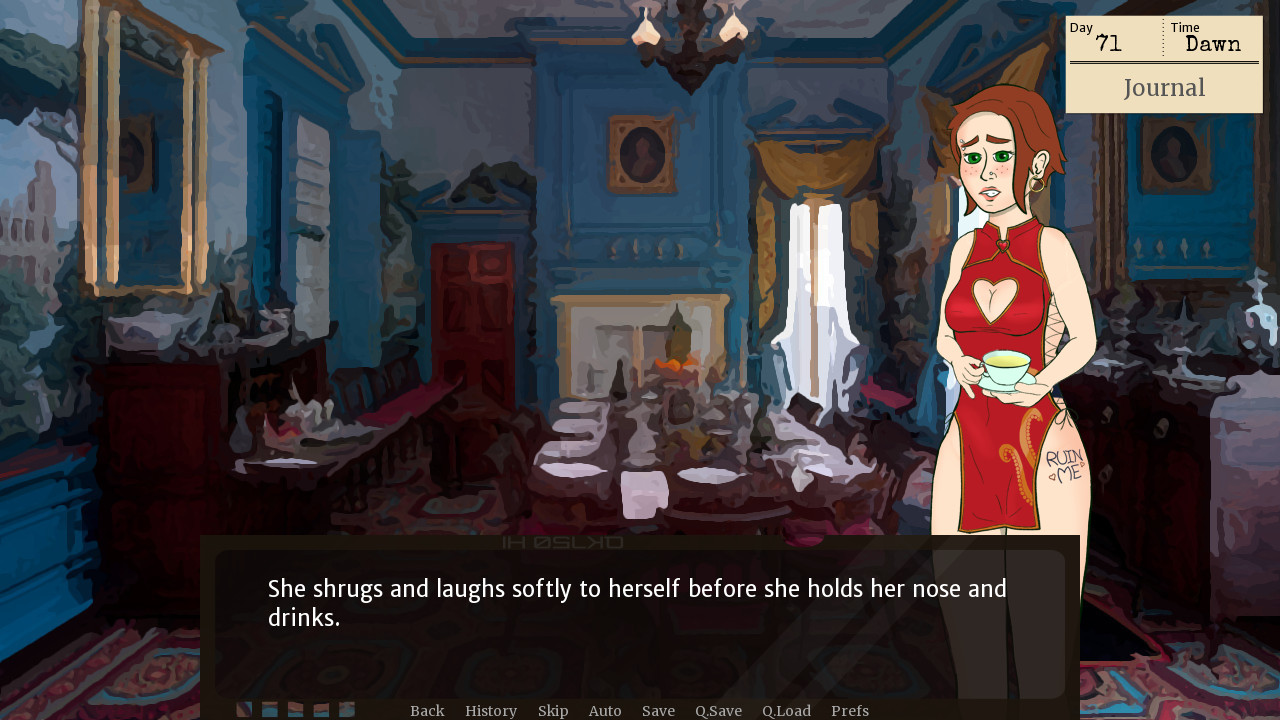 Hi, perverts! There's a new version of Ruin Me out for patrons, adding a new play scene with Theresa, a new tentacle-filled night music scene, a new seasonal outfit, and a customizable breakfast routine. The previous version is free for everyone and adds its own play scene with Theresa, a new swimsuit, and random scenes that you can see in town!
Please note: to upgrade on desktop, unzip the archive into a new directory. Your saves should carry over. Do not unzip over the previous version, as this can cause bugs.
If you want behind-the-scenes design notes, previews of upcoming releases, new versions as soon as they're released, or the ability to vote in polls to decide what I develop next, sign up to my Patreon!
Version 0.44.0p is for people who pledge $2 or more on Patreon and adds:
Seven breakfast routines to choose from, each including variations. Some require Theresa to have certain stats. After breakfast, Theresa will make conversation that may include guidance for how to proceed in the game. They're available by talking to Meg in the servants' office. You can skip breakfast entirely with the "I'll take it in my room" option.
The "Have Theresa penetrate you with a strap-on" play scene with choice of moods, available in Theresa's quarters once you have reached Permissivity 3.
The "Cappriccio di Calamari" night music, allowing a dream of messy tentacles. With Permissivity 3, Theresa can join in.
A new outfit for Theresa: the Heart-Motif Cheongsam outfit. It's available from the Tailor, found by exploring out of town. Within two weeks of Valentine's Day (Feb 14), it's available for free; for the rest of the year, it costs Ken like other outfits.
Adjustments to the cost of the Tailor's outfits, making more revealing and out-of-place outfits cost more Ken.
A fix for coitus play being available at Experience 3 instead of Permissivity 3.
New options for Theresa's standing pose artwork, letting her hold and sip from a teacup filled with various substances.
An update to a branch of the Advanced Depravity training in urolagnia to make it use the new teacup art.
New options for Theresa's "on top" pose artwork, supporting her use of a strap-on. Other art for the pose has been improved.
Improvements to Theresa's caver outfit, investigator's outfit, and standard dress to allow for more arm mobility.
An improvement to diminutive terms used for nonbinary protagonists (e.g. "good pet").
An improvement to the epithet Cathy uses for nonbinary protagonists.
Adjustments and improvements to the ambience and random text generation systems.
An improvement to Dr. Harvey's art to be scaled to better match other characters.
Minor enhancements and fixes.
Version 0.43.2 is public for free download and adds:
The "Penetrate Theresa's ass" play scene with various choices, available in Theresa's quarters once you have completed the appropriate training.
Ambience events with procedural text which randomly play in town, with more added with progress through the story. By default, one is played the first time you enter town in a time period (Morning, Evening, etc.). In the preferences, you can turn them off entirely or make them play every time you enter town.
A cheat option for Center of Attention patrons that lets you give yourself Ken, edit Theresa's stats, and skip acts.
A dialogue option to the end of Act I that clarifies Theresa's goals.
Vaginal and anal sex as an option for Theresa's random invitations when you enter her chambers, once you've trained her in them (and increased the chances of invitations).
A new outfit for Theresa: the trendy Gris swimsuit, originally designed by the artist Vertigris. It's purchasable from the Tailor, found by exploring out of town.
The ability to have Theresa pick a different outfit each day from those available.
A fix for the alignment of labial blush in Theresa's standing pose.
Revisions to the introductory sequence to better match the current style.
Fixed an issue that was resulting in documentation not getting included in distributions.
Upgraded Ren'Py from 7.3.5.606 to 7.4.11.2266. This should hopefully cause no change in previous functionality but should improve compatibility. Note that Android's internal version number is now based on a timestamp rather than the game's semantic version.
Minor fixes and enhancements.
If you sign up to be my patron at the $2/month level or higher, you get access to new builds as soon as they're done, plus the Reminisce feature that lets you replay old sex scenes without the trouble of rollback or save games. $5/month patrons also get access to a special cheat menu and the ability to submit requests! The current latest version will be available to everyone once the next patron-only build is up. If you want to contribute to the game's development, please become a supporter on Patreon!

Files
RuinMe-0.43.2-pc.zip
90 MB
Feb 14, 2022
RuinMe-0.43.2-mac.zip
56 MB
Feb 14, 2022
com.phanes.ruinme-release-0.43.2.apk
72 MB
Feb 14, 2022