Ruin Me
Ruin Me 0.43.0: Atmosphere of Depravity
---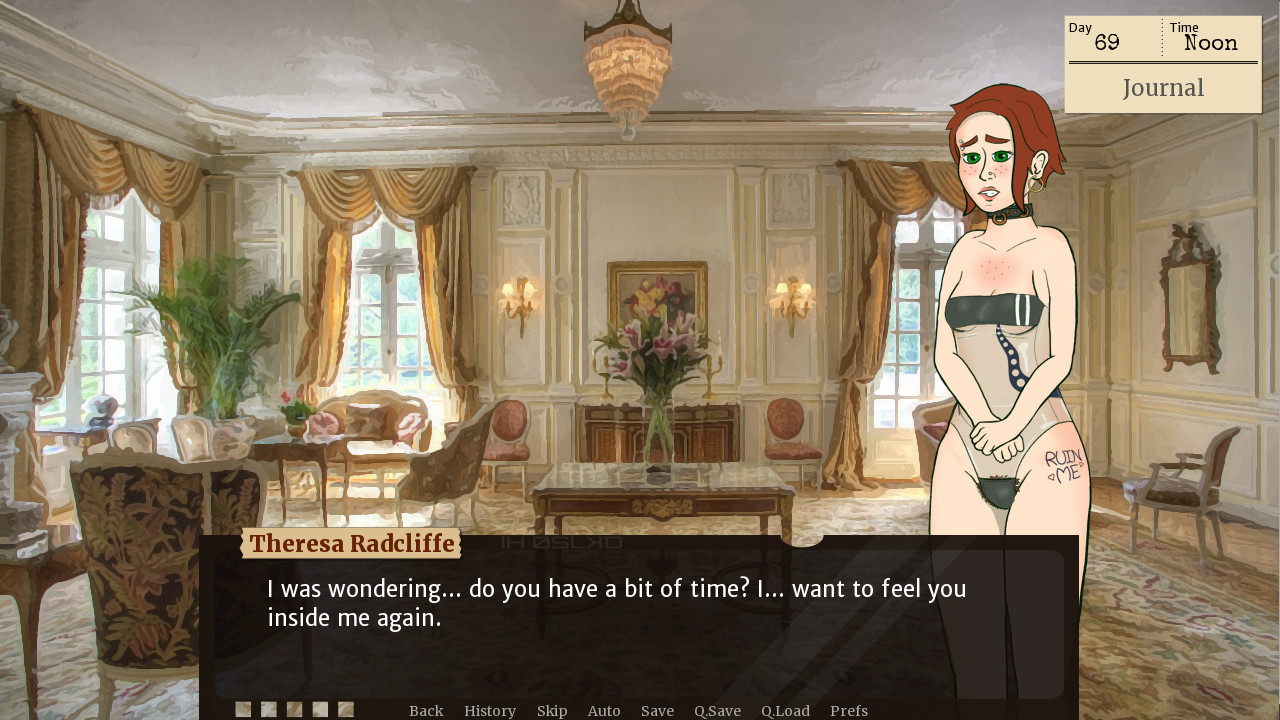 Hello, perverts! It's time for a new patron version of Ruin Me! There's a new play scene with Theresa, a new outfit, and random scenes that you can see in town. The previous version is now free, adding a new horror expedition and a new play scene.
Please note: to upgrade on desktop, unzip the archive into a new directory. Your saves should carry over. Do not unzip over the previous version, as this can cause bugs.
If you want behind-the-scenes design notes, previews of upcoming releases, new versions as soon as they're released, or the ability to vote in polls to decide what I develop next, sign up to my Patreon!
Version 0.43.0 is for people who pledge $2 or more on Patreon, and adds:
The "Penetrate Theresa's ass" play scene with various choices, available in Theresa's quarters once you have completed the appropriate training.
Ambience events with procedural text which randomly play in town, with more added with progress through the story. By default, one is played the first time you enter town in a time period (Morning, Evening, etc.). In the preferences, you can turn them off entirely or make them play every time you enter town.
A cheat option for Center of Attention patrons that lets you give yourself Ken, edit Theresa's stats, and skip acts.
A dialogue option to the end of Act I that clarifies Theresa's goals.
Vaginal and anal sex as an option for Theresa's random invitations when you enter her chambers, once you've trained her in them (and increased the chances of invitations).
A new outfit for Theresa: the trendy Gris swimsuit, originally designed by the artist Vertigris. It's purchasable from the Tailor, found by exploring out of town.
The ability to have Theresa pick a different outfit each day from those available.
A fix for the alignment of labial blush in Theresa's standing pose.
Revisions to the introductory sequence to better match the current style.
Minor fixes and enhancements.
Version 0.43.1 is a hotfix, adding:
A fix for an issue with setting Theresa's stats via the cheat menu. If you've encountered this issue, re-set her stats via the cheat menu after upgrading.
Version 0.42.1 is free for everyone, adding:
"The Pileous Retort" horror expedition, a tale of identity and transformation, available by talking to Pappy in the drugstore after the beginning of Act 3.
The "Engage in coitus with Theresa" play scene with two main variations, available in Theresa's quarters once you have completed the appropriate training.
An improvement to Theresa's "on top" pose to support blushing in all moods.
A fix to Theresa's default standing pose to make fluids layer more correctly.
A tag to support dialogue variations that occur when Theresa is sufficiently depraved.
If you sign up to be my patron at the $2/month level or higher, you get access to new builds as soon as they're done, plus the Reminisce feature that lets you replay old sex scenes without the trouble of rollback or save games. $5/month patrons also get access to a special cheat menu and the ability to submit requests! The current latest version will be available to everyone once the next patron-only build is up. If you want to contribute to the game's development, please become a supporter on Patreon!

Files
RuinMe-0.42.1-pc.zip
71 MB
Jan 31, 2022
RuinMe-0.42.1-mac.zip
54 MB
Jan 31, 2022
com.phanes.ruinme-42001-universal-release.apk
73 MB
Jan 31, 2022