Ruin Me
Ruin Me 0.40.3 Free With Hands and Player Piercings; 0.41.0 for Patrons Adds A Play Scene
---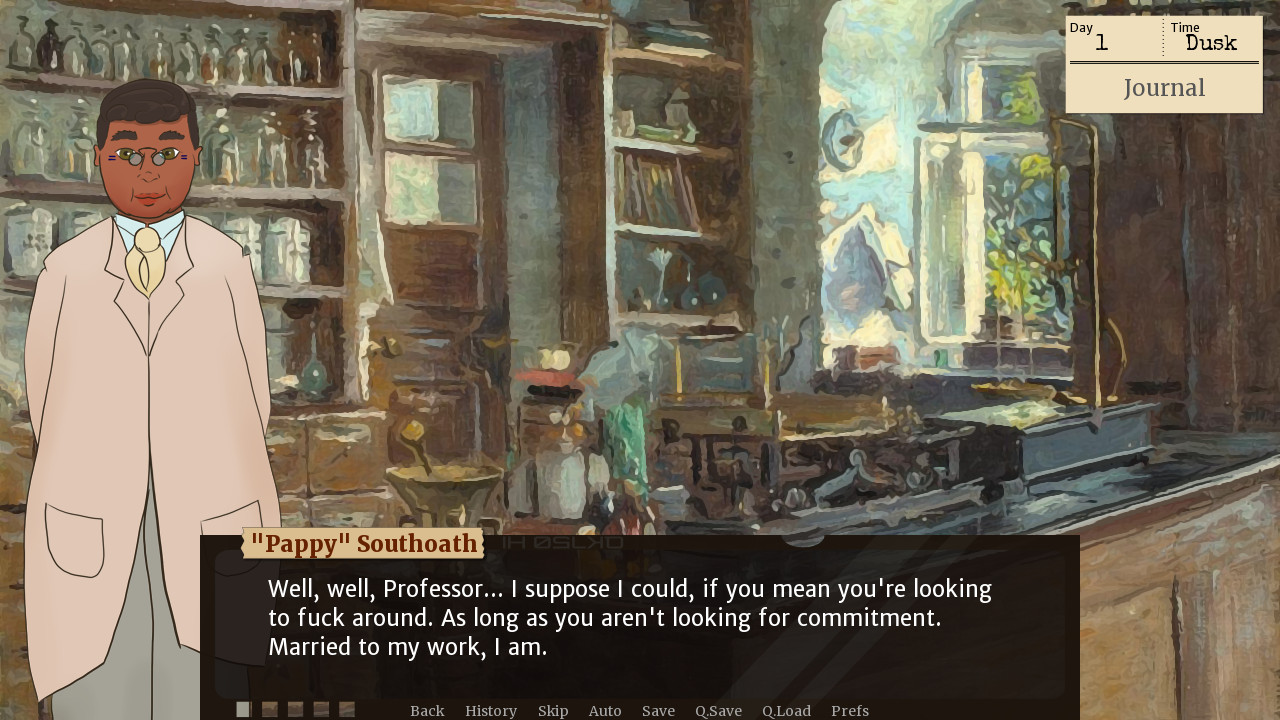 Hello, perverts! This is a fun little pair of updates for you. The free version now includes a creepy night music scene and the ability to pierce the player character. Patrons can now play the latest update, which adds a play scene with Pappy the pharmacist.
Please note: to upgrade on desktop, unzip the archive into a new directory. Your saves should carry over. Do not unzip over the previous version, as this can cause bugs.
If you want behind-the-scenes design notes, previews of upcoming releases, new versions as soon as they're released, or the ability to vote in polls to decide what I develop next, sign up to my Patreon!
Version 0.41.0 is patron-only and adds:
A play scene with Pappy, available by talking to them in the drugstore in town.
An orgasmic facial expression for Pappy.
An update to Dr. Harvey's art to match current character proportions.
An update to the drugstore background art to match styles.
Clarifications to "The Moaning Hole" expedition to help make it clear that supplies will be grabbed automatically.
More anatomical detail in the lesson at the beginning of manual sex training.
Minor fixes and improvements.
Version 0.40.3 is now public, adding:
The "Fugue for Innumerable Hands" night music, allowing a dream of disorienting groping. With Permissivity 1, Theresa can join in.
The ability to pierce the player character in the Sterile Parlor and change your piercings in your bedroom.
New art variations for certain poses to show the player's nipple or navel piercings, when appropriate.
Refinements to the tutorial for better dialogue flow, including cluing Pappy's gender.
A line of expository dialogue when Meg can first be involved in training if you haven't had sex with her yet.
Minor fixes and enhancements.
If you sign up to be my patron at the $2/month level or higher, you get access to new builds as soon as they're done, plus the Reminisce feature that lets you replay old sex scenes without the trouble of rollback or save games. The current lates version will be available to everyone once the next patron-only build is up. If you want to contribute to the game's development, please become a supporter on Patreon!

Files
RuinMe-0.40.3-pc.zip
70 MB
Nov 17, 2021
RuinMe-0.40.3-mac.zip
53 MB
Nov 17, 2021
com.phanes.ruinme-40003-universal-release.apk
72 MB
Nov 17, 2021