Ruin Me
Ruin Me 0.37.2 Free with More Erotic Horror; 0.38.0 for Patrons Adds Piercings and More
---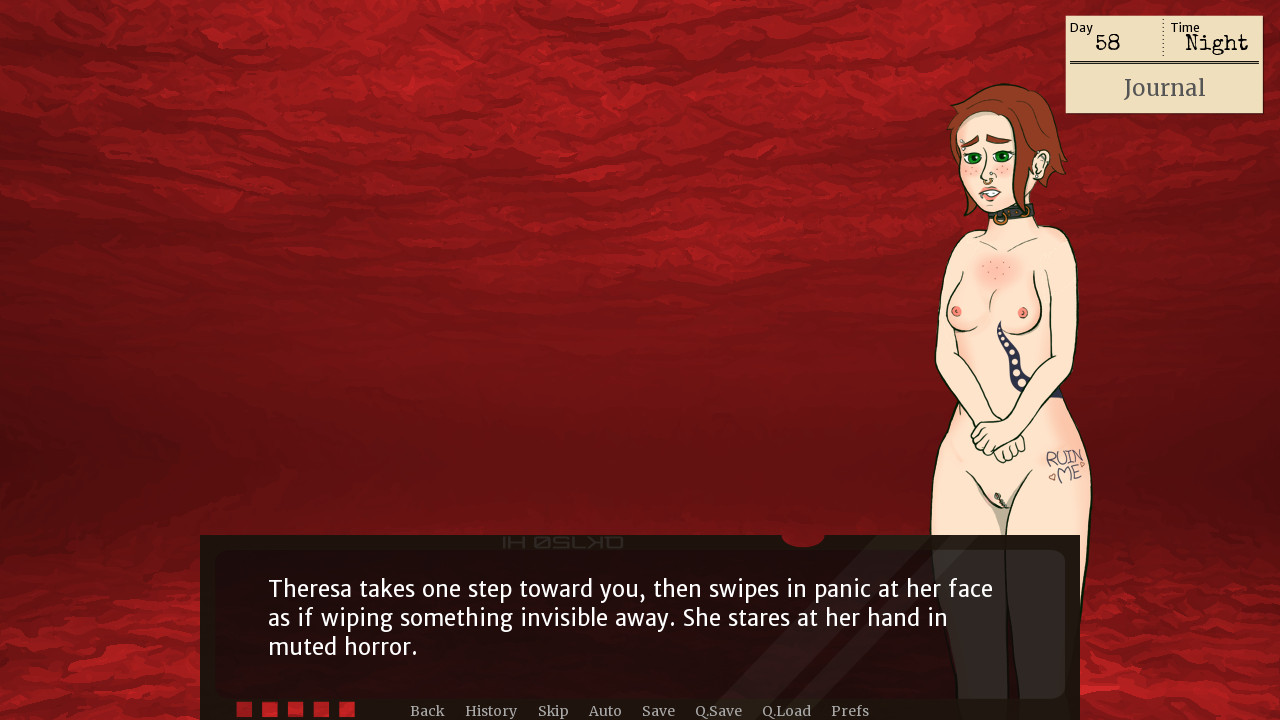 Hi, perverts! It's time for another release of Ruin Me! Patrons get a new play scene, a new night music scene, and access to body modification for Theresa. The free release of the previous version adds dreams of erotic horror!
Please note: to upgrade on desktop, unzip the archive into a new directory. Your saves should carry over. Do not unzip over the previous version, as this can cause bugs.
If you want behind-the-scenes design notes, previews of upcoming releases, new versions as soon as they're released, or the ability to vote in polls to decide what I develop next, sign up to my Patreon!
The Patron version is at 0.38.0p, adding:
The "Engage in urolagnia with Theresa" play scene, letting you engage in watersports with Theresa once she's had experience with it in Advanced Permissivity training.
The "Tarantella Gluante" night music, allowing a dream of bondage and spiders. With Permissivity 2, Theresa can join in.
The Sterile Parlor, accessible with sufficient Ken when exploring in the mansion. It lets you make Theresa's body markings permanent or give her piercings.
The ability to adjust Theresa's piercings in her chambers.
Fourteen different options for piercings to give Theresa, with art in relevant poses.
Improvements to the base lines of Theresa's default standing pose and lying-back pose.
Improvements to the colors of Theresa's kneeling POV pose.
Improvements to some art alignment for certain of Theresa's moods in some poses.
An improvement to the change menu in Theresa's chambers, splitting it into behavior and appearance.
A fix for the strange laboratory's variables being "define"d instead of "default"ed. This probably doesn't actually change anything.
The public version, 0.37.2, adds:
The music room, accessible with sufficient Ken when exploring in the mansion. It lets you play night music and experience "dream" sequences.
The "Toccata dal Labirinto di Carne" night music, allowing you or Theresa to explore a flesh labyrinth.
The "Étude Épaisse" night music, allowing you to encounter a well-endowed entity; with Permissivity 4, Theresa can join in.
The ability for Theresa to request play scenes when you visit her chambers; for the moment, these are limited. It will occur randomly once Theresa's Depravity reaches one if it's been long enough since she last offered.
A new feature where, in some repeatable scenes such as play scenes, Theresa can be less notably anxious as her Depravity increases. This can be deactivated in the options if you prefer her to remain vocally hesitant. This feature is a work in progress.
Two new body markings for Theresa: a "WC" stamp on her forehead and a "Ruin Me" design on the side of her hip.
Fixes for some places where subroutines were being called and not returned from, often because of time passing.
A cleanup fix for potential unexpected behavior: each morning, any returns remaining on the call stack will now be popped off.
A fix for an alignment issue with Theresa's pubic hair in the standing pose.
A fix for a logic error in the Étude Épaisse night music scene that meant Theresa would only participate if her Permissivity was below 4.
If you sign up to be my patron at the $2/month level or higher, you get access to new builds as soon as they're done, plus the Reminisce feature that lets you replay old sex scenes without the trouble of rollback or save games. The current lates version will be available to everyone once the next patron-only build is up. If you want to contribute to the game's development, please become a supporter on Patreon!
Files
RuinMe-0.37.2-pc.zip
68 MB
Mar 22, 2021
RuinMe-0.37.2-mac.zip
51 MB
Mar 22, 2021
com.phanes.ruinme-37002-universal-release.apk
70 MB
Mar 22, 2021