Ruin Me
Ruin Me 0.36.1 Free with More Watersports; 0.37.0 for Patrons adds More Erotic Horror
---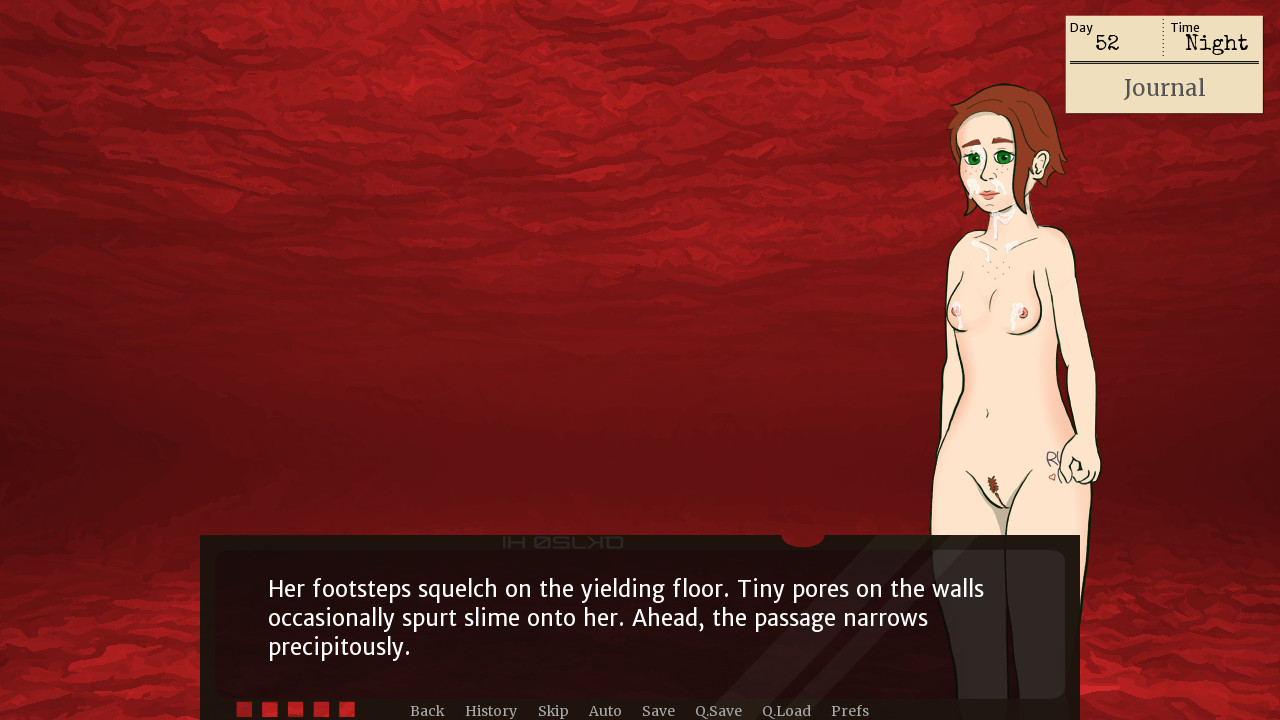 Hello, perverts! There's a new patron-only release of Ruin Me, featuring dreams of erotic horror. That means the new free release is out, adding a new minor ruination sequence with pee play!
Please note: to upgrade on desktop, unzip the archive into a new directory. Your saves should carry over. Do not unzip over the previous version, as this can cause bugs.
If you want behind-the-scenes design notes, previews of upcoming releases, new versions as soon as they're released, or the ability to vote in polls to decide what I develop next, sign up to my Patreon!
Patrons are at 0.37.0p, which adds:
The music room, accessible with sufficient Ken when exploring in the mansion. It lets you play night music and experience "dream" sequences.
The "Toccata dal Labirinto di Carne" night music, allowing you or Theresa to explore a flesh labyrinth.
The "Étude Épaisse" night music, allowing you to encounter a well-endowed entity; with Permissivity 4, Theresa can join in.
The ability for Theresa to request play scenes when you visit her chambers; for the moment, these are limited. It will occur randomly once Theresa's Depravity reaches one if it's been long enough since she last offered.
A new feature where, in some repeatable scenes such as play scenes, Theresa can be less notably anxious as her Depravity increases. This can be deactivated in the options if you prefer her to remain vocally hesitant. This feature is a work in progress.
Two new body markings for Theresa: a "WC" stamp on her forehead and a "Ruin Me" design on the side of her hip.
Fixes for some places where subroutines were being called and not returned from, often because of time passing.
A cleanup fix for potential unexpected behavior: each morning, any returns remaining on the call stack will now be popped off.
A fix for an alignment issue with Theresa's pubic hair in the standing pose.
The public free version, 0.36.1, adds:
A new minor ruination, "Rescue an Ambitious Bather", letting you help a woman come to terms with her fascination with urination. It's available in the cellar of the Reform Institute in Act III once Theresa has informed you about the "birds".
More revealing versions of Theresa's regular dress that she changes to at certain training levels.
An option on the outfits menu to switch to more modest versions of Theresa's regular dress, which won't be changed when her maximum training level increases.
Notes on the bird associations of the cellar captives in the journal.
An extra hint for the interview with Dr. Harvey if you fail it more than once.
Fix for an issue where the "Rescue" tasks weren't showing up in the journal.
If you sign up to be my patron at the $2/month level or higher, you get access to new builds as soon as they're done, plus the Reminisce feature that lets you replay old sex scenes without the trouble of rollback or save games. The current lates version will be available to everyone once the next patron-only build is up. If you want to contribute to the game's development, please become a supporter on Patreon!
Files
RuinMe-0.36.1-pc.zip
67 MB
Feb 11, 2021
RuinMe-0.36.1-mac.zip
50 MB
Feb 11, 2021
com.phanes.ruinme-36001-universal-release.apk
70 MB
Feb 11, 2021