Ruin Me
Ruin Me 0.35.1 Free with Flogging and Outfits; 0.36.0 for Patrons adds More Watersports
---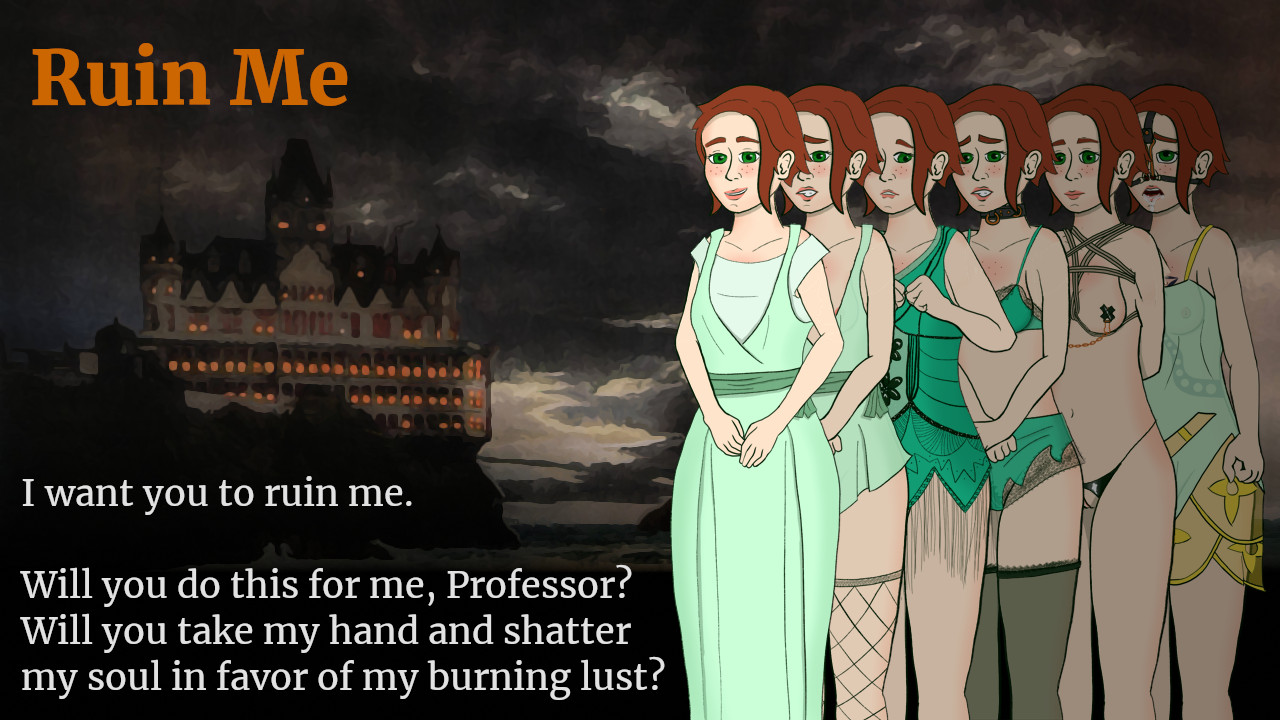 Hi, perverts! It's once again time for a new release of Ruin Me! Patrons get a new minor ruination sequence, while the new public version adds a new play scene with Theresa! Each version also comes with some outfits.
Please note: to upgrade on desktop, unzip the archive into a new directory. Your saves should carry over. Do not unzip over the previous version, as this can cause bugs.
If you want behind-the-scenes design notes, previews of upcoming releases, new versions as soon as they're released, or the ability to vote in polls to decide what I develop next, sign up to my Patreon!
The new patron version 0.36.0 adds:
A new minor ruination, "Rescue an Ambitious Bather", letting you help a woman come to terms with her fascination with urination. It's available in the cellar of the Reform Institute in Act III once Theresa has informed you about the "birds".
More revealing versions of Theresa's regular dress that she changes to at certain training levels.
An option on the outfits menu to switch to more modest versions of Theresa's regular dress, which won't be changed when her maximum training level increases.
Notes on the bird associations of the cellar captives in the journal.
An extra hint for the interview with Dr. Harvey if you fail it more than once.
Fix for an issue where the "Rescue" tasks weren't showing up in the journal.
The free version is at 0.35.1, adding:
A new "Flog Theresa while she is naked" play scene, available at Experience 2 and Depravity 3. The flogging will leave marks that fade over time.
Two new outfits for Theresa: a classic bra and tap pants lingerie set, and nipple tape with crotchless panties. They are purchasable from the Tailor, found by exploring out of town.
By patron request, an additional choice at the end of the anal sex training including the option to have Theresa suck you clean.
New greetings from Theresa, including (by patron request) some involving ass-tasting in the masturbation routine reports and the "proposition" and "depraved" greetings.
Improvements to the art for Theresa's standing pose.
A dressmaker's dummy to better display clothing options at the Tailor.
New audio ambiance for certain forest and beach scenes.
New audio cue when arriving on the Roth farm.
Volume adjustments to Institute ambiance.
A full changelog as an extra file in the desktop download.
If you sign up to be my patron at the $2/month level or higher, you get access to new builds as soon as they're done, plus the Reminisce feature that lets you replay old sex scenes without the trouble of rollback or save games. 0.36.x will be available to everyone once the next patron-only build is up. If you want to contribute to the game's development, please become a supporter on Patreon!
Files
RuinMe-0.35.1-pc.zip
67 MB
Jan 31, 2021
RuinMe-0.35.1-mac.zip
50 MB
Jan 31, 2021
com.phanes.ruinme-35001-universal-release.apk
70 MB
Jan 31, 2021